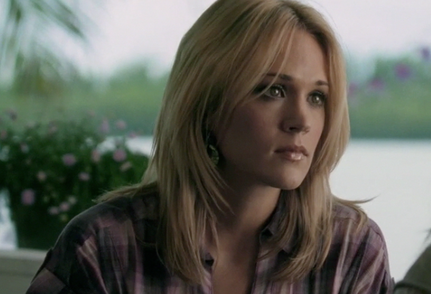 Sarah Hill
is the youth leader at Calvary Chapel church and a close friend of the Hamilton family.
Sarah Hill - Soul SurferEdit
At a youth group meeting at church one evening, Sarah makes a presentation to a large group of teenagers about the importance of trying to gain a new perspective when dealing with personal problems. To illustrate her argument, Sarah shows the youth slides of blown-up pictures of such things as flies' eyes and walnuts. Sarah's point is that just as the microscopic images look nothing like flies' eyes or walnuts do to the naked eye, many of our personal problems seem insurmountable when we focus in on them too minutely. Sarah exhorts the students to try to gain a bigger perspective on the issues that they are facing, which will allow them to see their situations more clearly.
After the meeting is over, Bethany drops off a care package of Spam and other food items to Sarah. Bethany explains that since she won't be able to go on the youth group's mission trip to Mexico due to training for an upcoming tournament, she wanted to drop off the food supplies for the orphanage before Sarah left with the other participants. Disappointed that she won't be attending the mission trip, Sarah warns Bethany that she'll really be missing out on being part of a very special project.
Feeling guilty about ditching the missions trip, Bethany seeks confirmation that she's doing the right thing by talking to her mother. When Cheri discreetly refuses to back Bethany up on her decision to remain in Hawaii and train for two upcoming tournaments, Bethany complains that she feels even worse.
After Sarah returns from the mission trip to Mexico, Bethany comes to visit for some spiritual help. Bethany tearfully confesses that she doesn't see how the shark attack fits in with God's plan for her life, but Sarah encourages Bethany to trust that the Lord will bring something good out of this horrible situation.
At a Thanksgiving luau given in Bethany's honor, Bethany speaks of her intention to compete in the Hawaiian island regionals, and Sarah is completely supportive. After her poor showing in the regionals competition, Bethany decides to give up surfing and participate in Sarah Hill's mission to Phuket, Thailand, the site of a devastating tsunami. While handing out bottles of clean water to Thai people on a beach, Sarah is delighted when she sees a cheerful Bethany coax the locals back into the water and onto their surfboards.
Sarah and the rest of the Calvary Chapel Fellowship youth group cheer Bethany on when she competes in the Rip Curl Nationals championship.