Soul Surfer: A True Story of Faith, Family, and Fighting to Get Back on the Board
is professional surfer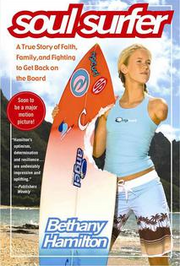 This is a book about sharks and ashleys best friend Alana Blanchard, her brother Byron, and father Holt arrived after Bethany and her mother did. Not wanting to return home to do more school work, Bethany asked if she could remain with her friends at the beach and get a ride home with them. Cheri agreed, and the quartet of surfers were in the water by 6:40 am on Halloween morning.
At this point in the narrative, Bethany shifts her focus to describing her parents' history as surfers. Bethany portrays her father as the ultimate surfer nut, who would surf even in a New Jersey winter wearing a black wet suit and greasing his armpits with Vaseline to ward of wet suit rash. In 1970, Tom was sent to Vietnam and during his stint in the navy, he met a man named Robby from Hawaii who encouraged Tom to visit the island. During Christmas 1971, Tom visited Hawaii for the first time and vowed quickly to come back. Tom returned to San Diego, California and enrolled in Mesa Junior College but decided to quit school after two semesters. Using his life savings, Tom bough a one-way ticket to Hawaii. He tried living in a tent in a ditch for a while, until the rainy season came and turned his ditch into a riverbed.
Bethany's mother Cheri also came to Hawaii from continental America - California, specifically. After getting bitten by the surfing bug in San Diego, Cheri decided to travel to Kauai for the more challening waves. Like Tom, Cheri also became part of the surfing hippie culture of that time. Through the surfing scene, Tom met Cheri, but she wasn't interested in dating him because she had a boyfriend at the time. However, when that relationship eventually ended, Cheri and Tom began seeing each other until Tom popped the question to her on Valentine's Day. Six months later, the Hamiltons married.
Bethany goes on to say that growing up with two older brothers encouraged her competitive streak. She says she appreciates the fact that her brothers always let her play rough-and-tumble sports with them like roller hockey, paintball, and soccer without giving her the line that "girls don't do those things." However, it was clear that from Bethany's earliest days that surfing is where her athletic passion lay. She recalls her family spending lots of money on plane tickets, hotels, transportation, and entry fees just so that she could enter competitions.
Bethany got her first taste of victory at a competition held at Makaha Beach. Bethany says her win a Makaha "got things rolling for" her regarding her surfing career, and her brother Noah stepped up to become Bethany's promoter. Aside from setting up websites for Bethany and taking promotional pictures of her, Noah landed Rip Curl as Bethany's sponsor.
Returning to her description of the shark attack, Bethany mentions that she didn't even scream when the shark bit her - all she felt was a tug. When the water around her went red and Bethany looked at her arm, she called out loudly that she'd been attacked. Alana's father Holt came over to Bethany and used his rash guard make a tourniquet for her severed arm. Bethany's held onto Holt's swimming trunks as he paddled her to shore. Bethany passed out, and Holt procured a leash from another surfer to replace the rash guard he'd used as a tourniquet.
Because of her loss of blood, Bethany became cold and thirsty. Alana ran up to a jogger on the beach who just happened to be a paramedic, and he came over and examined Bethany, telling her not to drink any water because she was going to need surgery soon. Holt and some others lifted Bethany into the back of his truck and drove down the road to meet up with the ambulance. Inside the ambulance, Bethany remembers being poked and prodded and a paramedic telling her, "God will never leave nor forsake you."
When Cheri got the phone call that Bethany had been attacked, Cheri thought it was just her daughter playing one of her many practical jokes. Realizing that the situation was indeed serious, Cheri woke up Noah and told him the bad news. Noah then phoned Bethany's good friend Sarah Hill at work, and they all decided to meet up at the Hanalei police station and travel to the hospital together. At the hospital, Bethany's father was being prepared for surgery on his knee when the doctor was told that the operating room would be needed for a thirteen year-old shark victim. Tom knew that the victim either had to be Bethany or Alana, and Dr. Rovinsky confirmed that Bethany was the victim.
Dr. Rovinsky performed Bethany's first surgery, which involved amputating part of what remained of Bethany's arm. He had to find the nerves in her arm and cut them so as to reduce the sensation known as "phantom pain." Dr. Ken Pierce did Bethany's second surgery in which a flap of skin is used to close the wound. After Bethany woke up from the anesthesia, she vomited violently because she had drunk a bunch of water before the surgery. Immediately after her surgery, Bethany initially felt she was never going to be able to surf again, but within two days, she was back to believing that she could attain her dream of becoming a professional surfer. The first Sunday after the attack, Bethany's church youth group showed up to worship with her and pray for her in her hospital room.
After a third surgery, Bethany was finally released from the hospital on Wednesday, but she couldn't go home due to the reporters camped out there. However, she did need to pick up a few items from home, so the Hamiltons had to drive home with a police escort. The next day, the dressing on Bethany's arm needed to be changed, and this was the first time the family saw Bethany's stump without any bandages. The shock of how much of Bethany's arm was missing took a great psychological toll on the family.
The Rip Curl company, along with Jill Smith, organized a fundraising silent auction to help Bethany's parents with medical expenses, raising over $75,000. Also around this time, Bethany began to receive thousands of letters, well wishes, and donations from around the world.
A few months after the attack, Bethany made the decision to share her story with people around the world and subsequently became somewhat of a celebrity. She started doing interviews with shows like 20/20, Inside Edition, Good Morning America and many others. Bethany flew to New York to be interviewed on MTV but admitted that she wasn't all that fond of the Big Apple. Bethany also admits that becoming a celebrity is draining and that she gets tired of people coming up to her to talk to her or request an autograph.
The day before Thanksgiving, Bethany decided she wanted to get back in the water and try surfing again. Noah wanted to be there to capture the moment of Bethany's return on film. On the third try, Bethany was able to get back up on her surfboard and ride the waves. Bethany returned to the water the next day to do some more surfing, and it was then that all her doubts about be able to return to the sport vanished.
Bethany concludes the biography part of the book by analyzing the impact her attack has had both on herself and other people. Bethany mentions that Alana had a particularly difficult time coping with what happened, suffering nightmares and crying for no reason. However, Bethany believes that all in all, her accident has given her the opportunity to speak to others about Christ. She acknowledges that there are people out there much more qualified than she is to do so but accepts that she's been chosen for this work anyway.
Updated Version
Edit
An updated version of the autobiography contains a journal Bethany wrote during the filming of the Soul Surfer movie.